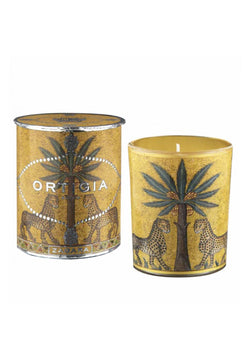 Zagara Candle
DESCRIPTION
A decorated glass candle jar of lush golden wax, rich with the natural essences of orange blossom and fragrant wood. With handmade gold foil details, the print creates a stunning effect as it burns.
DETAILS
- 100% Wax
- Scent: Orange Blossom and Fragrant Wood 
- Burn Time: 50 Hours
- Size: 50 Grams, 7 cm x 8.5 cm. 
DELIVERY & RETURNS
Find out more about our Delivery & Returns
*Delivery updates for shipping to EU
Since 1st January 2021, new charges apply to orders shipped from the UK to the EU. Please check our Delivery & Returns for further information
DUTY AND TAX
For information on duty and tax for international orders, please click here
*Salt Boutique is not responsible for any additional duty and tax on international orders. All international orders will have a fee to pay unless stated otherwise on our Delivery &  Returns page. This cost will be covered by the customer and is not calculated during checkout. 
NEED MORE INFO?
Chat with us using our live chat service